We're sure, on a daily basis, we don't even realise how much we spend on shopping, right? Especially, if you are into cutesy accessories, dolls, home decor and more, you'd know what we're talking about. From brightly coloured dairies, pouches, planted pot, cute stuffed toys – we want it all. But how about if we tell you that you can buy all this stuff, and contribute to society at the same time and help economically backward women? Yes, the social enterprise and NGO, Happy Threads, from Gujarat is exactly that. Happy Threads makes all their products using crochet and they are sourced from economically backward women. Scroll down to know more about their amazing concept and products.
All About Happy Threads
Image Source: Facebook/happythreadsbysupermoms


Image Source: Facebook/happythreadsbysupermoms
Happy Threads is an online webstore initiated by Syedna Mufaddal Saifuddin, who aims to uplift and empower the lives of talented, skilled and hardworking women that are often not valued as much as they deserve. This non-profit organisation targets working together with women from all over local villages and India to achieve economic and social sustainability for them through their craft.
The Process Behind The Selling of Products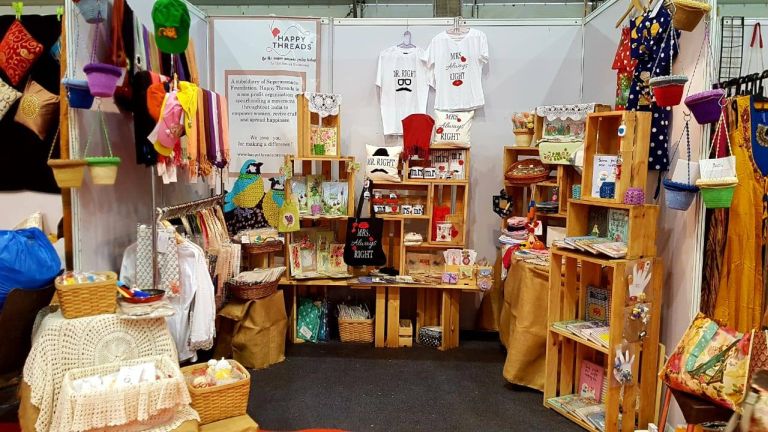 We spoke to Tasnim Sabuwala, the head of Happy Threads who explained to us the steps and process of selling the products made by the women artisans.
He said, "The team of designers that we have get in touch with artisan coordinators in different places across different villages and gives them direction by video tutorials, or instruction sheets and possibly samples. The size, colours, other details are specified. Based on these instructions, the coordinator then briefs their group of artisans and asks them to produce samples. The products are couriered back to our main production centre in Surat, where our production head checks it for quality issues. Once approved, we are ready to market through our various channels."
In fact, the efforts and work of Happy Threads have been recognized by our Prime Minister, Mr Narendra Modi as well.
What All To Shop?

Image Source: Facebook/happythreadsbysupermoms


Image Source: Facebook/happythreadsbysupermoms
Name the item you have been looking for, and you will get it here at this fantastic webstore! You can shop for products like kids' soft toys, dolls, jewellery, stationery and stoles that are handcrafted with love. And to make your home look more elegant, you can also find an array of kitchen accessories, planter pot and home decor items.

Image Source: Facebook/happythreadsbysupermoms


Image Source: Facebook/happythreadsbysupermoms
Each of the items is handmade from colourful crochet. You can even get your products customised the way you want. We are totally in love with their Mr and Mrs collection, which consist of cosy mug holders, key chains, diaries and pouches.
Talking about the marketing channels and where can we buy these items, Sabuwala said, "Apart from our website, you can buy the items from- Exhibitions, markets in Mumbai, Ahmedabad, Pune and Surat; and not to miss is our collection at Kalaghoda Fair in Mumbai."
We are ordering our new collection of stationery and a pair of earrings RN, what about you?
(Featured Image Source: Facebook/happythreadsbysupermoms)